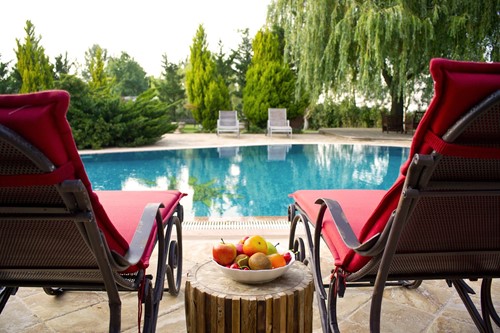 When you choose a private community, you likely do so because of some of the more visible amenities -- the pool, tennis courts and clubhouse are difficult to miss. Which amenities matter most to you -- and which are just nice additions? A look at some of the potential private community amenities and what they do for the community can help you determine your personal "must have" list.
5 Amenities Every Private Community Needs
Swimming Pool: One of the most visible and used amenities for any private community is the swimming pool. If you dream of lounging by the pool in summer, want the kids to have swim lessons and want a place to hang out on the weekends, a pool is likely on your list. Ideally, the pool will be large enough to serve the community -- a small pool will not be enough for a large neighborhood with lots of families.
Clubhouse: It is often a focal point of the community, and when used the right way, can be an incredible asset. Before you make a decision, you should know what the clubhouse can be used for. Are residents able to book it for parties, hang out and read or use gym equipment for the HOA fees the community assesses, or is there an extra cost for access? A community with a good, accessible clubhouse offers a true asset for entertaining and will enhance your enjoyment of the space.
Landscaping and grounds keeping: Most residents don't realize how much behind the scenes work goes into creating a striking and welcoming living space. From adding seasonal plants to trimming grass and maintaining the public areas, a private community should have its own dedicated landscape team or a commitment to providing these services.
Security: Whether your community is gated or not, having a security patrol on the premises can help make you feel more secure at home and prevent crimes in the neighborhood. A manned security booth and regular patrols can give you peace of mind and allow you to enjoy all the community has to offer.
Playground: If you have kids now or they are in your future, then a playground that is well designed and made from the latest materials is a must. Even if you do not have kids, a playground can help cut down on the number of kids roaming the neighborhood and on wear and tear of other public areas. An appealing and welcoming play space is a plus for anyone in the community and will help if you decide to sell your home later.
The best private community amenities make residents feel safe, enhance the look and feel of the neighborhood and provide additional perks and things to do for the people who live there. Make sure you spot the accessible amenities of any community you are considering and that the neighborhood you choose has the items that matter to you most.